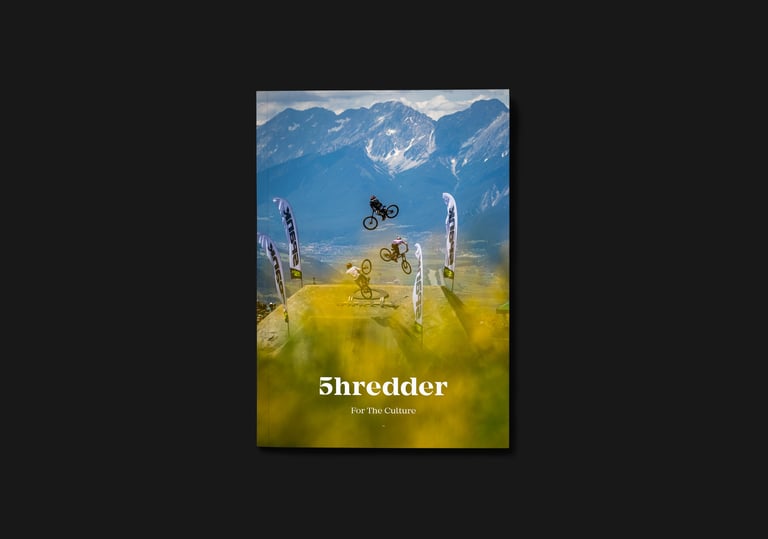 Shredder MTB Zine Issue Five
Its been a long time in the making but the latest issue of your favourite MTB Counter-Culture publication is finally here! Created purely out of a life long passion for mountain biking and a love for art and design this issue boasts 160 pages of advert free content.
The Death Of Independence - A friendly reminder (rather than a rant) encouraging riders to support the independent retailers when they can.
Click Click Click Click Click - Five of my favourite Boris Beyer photo bangers captured throughout the 2018 season (showcased throughout the issue.)
In The Shadows - We find out what the mysterious photographer Tom Bowell is all about including his biggest inspirations and his work process.
Vlog Off - Everyone's vlogging these days. Some have genuinely interesting content whilst others potentially could be damaging the image of our sport. Will Weston investigates the selfie generation in this contributed article.
Disposable Heroes V - It wouldn't be an issue of Shredder without a lo-fi disposable experiment! This time I'm back at Fort William for the second round of the UCI World Cup.
Release Your Inner Caveman - What makes mountain biking so bloody good? Well, there's a lot of answers to that one, however Ronan Taylor draws an unconventional conclusion in this contributed article.
Rolling The Dice - What goes into creating a stand out video segment? We ask the 2 filmers Joe Bowman and Aaron Bartlett, along with the photographer Boris Beyer and of course the rider Phil Atwill about some of the challenges and set backs that came with filming a full section.
Danny Brown Gig Review - I check out the larger than life rapper to see how his shrieky voice sounded live on the mic.
The Dusty Huckers - Homegrown freeride at it's very best. We find out out the Welsh biker gang is all about.
Skip Ad - So not entirely advert free?
Rachel Atherton - What do you ask the woman who's done it all? Find out in Rachel's 18 page full feature interview article.
Artist Spotlight: Jaye Christie - A modest, hard working, humble Aberdeen based graphic designer/artist answers some questions about his work and supplies fresh treats in the form of some Shredder exclusive art pieces.
Print Has Its Place - James McKnight is another unique figure in MTB who creates printed projects out of his sheer love for our sport. We find out what Misspent Summers is and his opinion on social media usage vs. physical releases and much more.
Compulsive Obsession - Chances are if you haven't heard the name Adi Gilbert you're likely to have seen some of his incredible art work in an advert or on a t-shirt design from one of your favourite brands. Adi is an extremely talented graphic designer/illustrator based in Moray, we find out a bit more about his history with bikes and how he came to work for so many of his favourite brands.
Brage Vestavik - The viking. The wild child. The undisputed king of good times. The berm destroyer. The pump track champ. The purveyor of fun. Brage Vestavik is the living embodiment of mountain biking done right.
The Enemy - A reflective conclusion to close the zine.
Free stickers with every order (whilst stocks last).