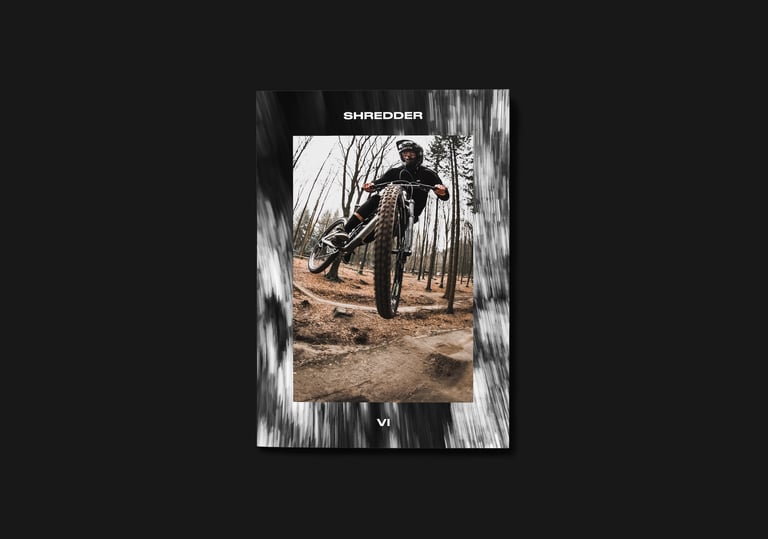 Shredder MTB Zine Issue Six
The wait is over, Shredder season is finally upon us. Issue 6 boasts 192 pages of your favourite riders, upcoming underdogs and the best creative mastermind's mountain biking has to offer. Completely advert free and made purely for the love of fusing bikes with art and design.
Return Of The Bone Rattler - A tale of how buying a hardtail to see me through the winter rejuvenated my passion for stiff rear ends, and riding in general. Featuring an incredible comic strip by Kristina Wayte aka Sketchy Trails.
Click Click Click Click Click - Five of my favourite Boris Beyer photo bangers captured during Maddog's trip to New Zealand at the start of this year, showcased throughout the whole issue.
Hashtag MTB Jesus - The man with the holiest nick-name in mountain biking, Zach Faulkner. Learn about the man behind the beard in this interview/photo-folio showcasing Zach's favourite photos captured throughout his career as an MTB photographer.
Style Lord - Jasper Penton's rise from moto kid to stylish 'freeracer' feels like it happened over night. In this interview with Jasper we find out about his history with MX, his riding inspirations and what he loves/hates about mountain biking. Tomb Photography provided some amazing snaps for this article.
For Better Or For Worse - The great energy drink debate continues. Robert Johnston contributes an insightful opinion piece asking the controversial question: are energy drink companies damaging or helping our sports reputation? Adam Lievesley is behind the lens for this one.
The Musical Troll - After an internet troll bashed my music selection for a video I made, I dug into the history of the bike video music to discuss how these videos have helped shape MTB culture, and in turn, educated me in many genres and bands.
Dr. Whoever - Kieran McCarroll checks out an Aminé gig and gives us an insight into his performance. Beautiful, crispy photos provided by Dan Griffiths aka Moonhead Media.
Disposable Heroes VI - I gave a disposable camera to the pan and zoom specialist Tommy Caldwell to see what lo-fi gems he could capture with the one-shot wonder.
The North Beast – This issue's artist spotlight comes in the form of my close friend and Shredder behind the scenes cohort, Chris Whyte. His interview article covers how he came to help fine tune the Shredder vision, his path into working as a freelance Graphic Designer, his charity print shop The Chariso Press and so much more.
The Lesser Trodden Path - A local legend in his own right, I caught up with Ajay Jones to find out about his beginnings in mountain biking, the days of travelling with his hardcore band and his growing clothing emporium, Letsavew. Callum Philpott bringing some bangers for this piece.
The Individualist - If there's anyone who has cut a truly unique trail in mountain biking it has to be Josh Bryceland. I interviewed the Rat to learn a bit more about his move to Cannondale, his first magazine feature back in 2004, his reading list, his influences and his future plans… Evolution is a trip! Hector Saura of Bicycle Nightmares captured all the photos for this interview article.
OK Google - Make me a part of your search history… 100% advert free, right?
Your Favourite Riders Favourite Rider - The beautiful obsessive. A Scottish riding enigma. MTB's true style perfectionist. This Ryan Middleton article is long overdue! I asked Ryan's closest riding buddies to tell us a bit about what makes Ryan Scotland's most stylish rider. Johny Cook captured the true style and finesse of Ryan in this 16-page article.
Draw More Skulls - Tom Bunney is an incredible illustrator currently based in Vancouver. His story is breath-taking – a freelance creative travelling the world, a battle with cancer and an impressive portfolio from working closely with some of the biggest brands in MTB. This 20-page interview is the most detailed discussion in the history on Shredder.
Cam McCaul - It's an honour for Freeride Royalty to grace the pages of Shredder. I caught up with Cam to learn about his journey through mountain biking, his love for music, commentating at some of the world biggest and best events and much more. Tyler Roemer was on photo duties for this one and he sets the mood perfectly.
The Unspoken Bond – The diversity of the people I've met through mountain biking amazes me. I think back to all of the inviting conversations I've had in carparks with fellow riders and dig a little deeper into the bond mountain bikers share worldwide. One of my favourite graphic designers/illustrators Jon Gregory drew a piece to accompany this article.
Free stickers with every order (whilst stocks last).