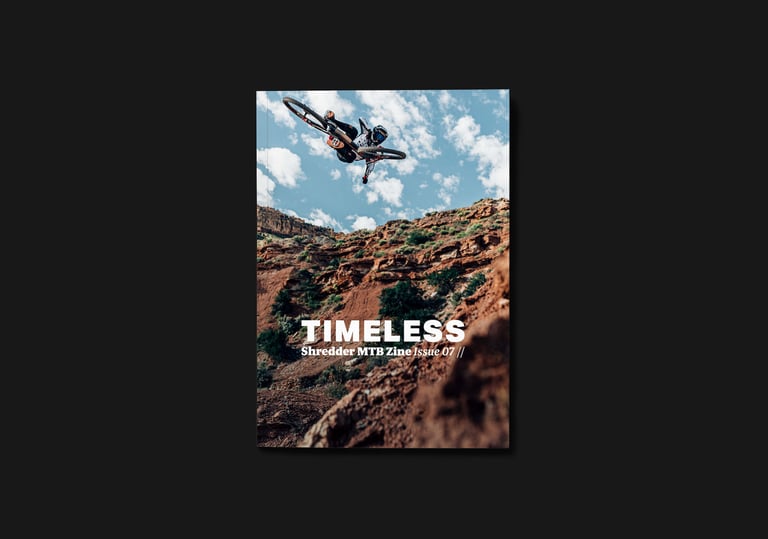 Shredder MTB Zine Issue Seven
Timeless: Not affected by the passage of time or changes in fashion. Having a value that is not limited to a particular period but will last for ever. Shredder season
is back and issue 7 is chock full of stories, opinion pieces and interviews with some
of mountain biking's most creative and passionate riders.
Blah Blah Blah - A positive, uplifting and heart-felt message from the editor...
Click X5 - Five photos spread throughout this issue showcasing the incredible
talents of photographer, Jason Beacham.
Focus On The Culture - An in-depth interview/photofolio with one of MTB's leading
photographers, Anthony Smith.
The Perception Of Progression - "Do we perhaps risk losing our love of bikes if we
get caught in this relentless pursuit of progression?" A Contributed piece from Lew
Price, discussing the bike industry's rate of progression and whether it's healthy for
the sport (and our wallets).
Disposable Heroes VII - The seventh instalment of your favourite disposable camera
challenge, taking a lo-fi look back at the 2019 Fort William World Cup.
P - A delve into the mind of James Pettitt, Wharncliffe's infamous trail building,
crusty punk.
Living The Canadream - Harry Griffiths experiences the highs and lows of life on the
road in this contributed Vancouver Island roadtrip tale.
A Lifelong Competitive Streak - An interview with Gee Atherton covering his
successful career as a World Cup racer and the challenges he faces being a vital
figure in the running of Atherton Bikes.
Fuck My Ambitions - Raw, unfiltered opinions from one of mountain biking's leading
creative masterminds, Max Nerurkar aka 3dumb.
Artist Spotlight - Dark, detailed and distinctive. Or, vibrant, bold and impactful? My
selection of words used to describe what I'm looking at changes the further and
deeper I delve into the portfolio of Stallan, this issue's Artist Spotlight.
Building A Community - Not all heroes wear capes... Some go out of their way to
carry heavy tools up hillside, executing hours of manual labour to ensure the trails
we all ride are maintained and kept in tip top condition. I catch up with Tom Cole,
one of the founding members of the Aberdeenshire Trail Association to find out what
they're all about, and how they've built a community.
A Faceless Bicycle Corporation - The advert free MTB publication.
Passion - To be a professional mountain biker you must have a certain drive, and a
hell of a lot of passion. I chat to Tyler McCaul about all things MTB in this 18-page
interview article.
Stay Curious - An interview with Jon Gregory, the go-to graphic designer for the bike
industry. I learn about Jon's childhood, what inspirations him and find out more about
his time spent working at the legendary Dirt Magazine.
Timeless - A photography experience contributed by Robuin Chaddah-Duke
exploring the similarities of mountain biking to film photography.
Moto? - What is it that has me obsessed with making brap sounds and yelling moto
lingo when watching mountain bike edits? I investigate where my motocross
obsession came from, despite never actually riding a crosser.
Free stickers with every order (whilst stocks last).