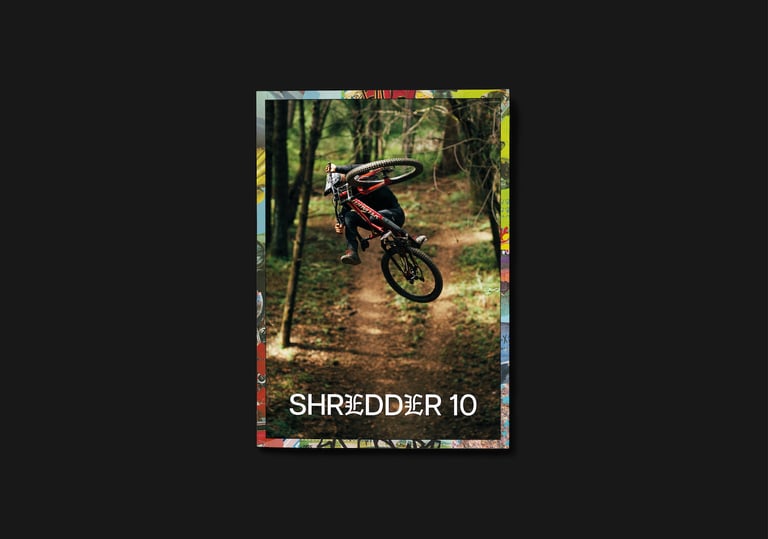 Shredder MTB Zine Issue Ten
Something From Nothing: The process is ongoing. The graft, enjoyment and reward is endless. As long as you're committed to making things happen, you can muster up the motivation to create that new trail, capture that perfect photograph or organise the best riding trip. Every article, interview, topic or piece of information contained within issue ten of Shredder contains the underlying message that everything has a beginning. Web edits, photoshoots, building trails and riding trips all start off as a simple idea. How you turn these thoughts into 'something', is entirely up to you.
Nothing:Something: A short introduction explaining the theme of issue 10, accompanied by photos from Sven Martin and Russell Holliday.
The People Person: Dylan Sherrard relishes the opportunity to explore the unconventional to see how far he could push his imagery. In this interview/photofolio article I ask Dylan an array of questions to explore his history with mountain biking, photography techniques, freelancing and how bikes have helped shape him as a photographer.
Build Your Own World: Isaac Wallen is a creative freerider, photographer, digger and filmer who, at the mere age of 24 years old, has already contributed so much to the greater good of our mountain bike culture. I delve into Isaac's mind to discover what inspires him on his bike and behind the lens in this 24 page interview piece.
Respect The Art: Not content with just riding at a phenomenal level, Remy Morton's diehard digging tendencies have led to him starting a trail building company with his close friends. The outcome is Flux Trail, a group of 6 grafters working together as a team, who specialise in custom building trails for any purpose, style and discipline. This article covers the origins of Flux Trail, what each memeber contributes to the team and their favourite projects they've been involved with so far.
Against The Grain: Tora Cycles haven't followed conventional MTB trends; they've paved their own path, building a small cult following amongst riders who prefer their bikes to be welded lovingly by hand, look a bit more industrial and generally just want to ride something a bit more exciting during this era of vanilla bikes. I spoke to Neil Pengilley to find out more about the Brooklyn Machine Works inspired rigs.
The Law of Fives: Mid-school mountain bikers assemble, we're about to reminisce about Sam Hill winning aboard an Iron Horse Sunday, Adam Brayton riding to a Wiley tune, and the sheer pain of MiniDV tape logging. 15 years on from its release, I spoke to visual creative mastermind Alex Rankin to discover what went into the making of arguably the best mountain bike video of all time, Earthed 5: The Law Of Fives.
Along For The Ride: As soon as I saw the artwork of Ryan Roadkill, I immediately fell in love with his bold illustration style built on heavy strokes and bold colours. I think what first attracted me to Ryan's work was his ability to draw such dark figures and surroundings in such an inviting and strikingly vibrant way. This artist spotlight feature details Ryan's beginnings in illustration, his workflow and what inspires him to draw in his unique style.
Fun: To get an insight into their early beginnings, their party palace The Zoo, and how racing as privateers helped teach them many important life lessons, I asked Ed Masters and Dave McMillan all about being a part of the esteemed biker gang of tearaways, The Vanzacs.
Master of All?: Jim Bland is good at riding, a keen bike shop worker, a killer photographer, someone who knows their way around a toolbox, and a tech savvy rider who reviews products. As soon as I met Jim at this past year's Fort William World Cup, I knew I needed to feature him this the zine to find out what makes him tick.
Driven by Desire: With a committed and loyal crew around her, a fun loving attitude towards racing and a desire to travel around the globe, Mikayla Parton has become one of the fastest riders in the UK, and a force to be reckoned with at a Worldwide level. This 18 page interview details her thoughts on racing, rivals, social media and much more.
Click X5: This article serves as a little history lesson, a delve into five of Sven Martin's captures, randomly selected by myself, with some background information provided from the man himself. For this issue I trawled through his archives for a selection of photos from riders that haven't appeared in this feature previously.
Embrace Your Nightmares: Héctor Saura is a multidisciplinary creative with a truly unique vision of how he views and portrays our sport. The man behind Bicycle Nightmares has gone through many ups and downs throughout his life, but all of these experiences have led him to grow and expand his work off the bike. This 28 page article is Héctor's most prolific interview to date, covering the Bicycle Nightmares story in great detail.
Ride For You: Where does the desire to be sponsored come from? Is it the urge to feel wanted? An attempt to feel more worthy? Do these people want to get paid, or do they just want free stuff? I question whether the 'sponsor-me' mentality is healthy in our world of mountain biking in issue ten's outro article.