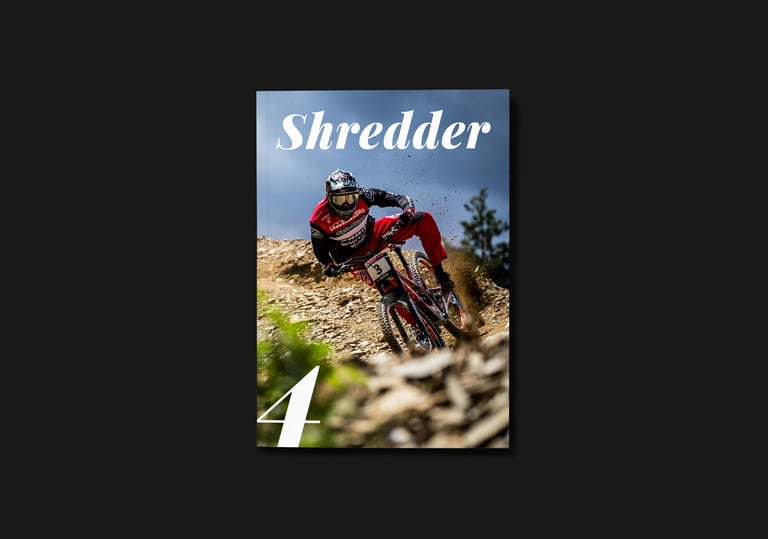 Shredder MTB Zine Issue Four
'Live For The Smiles' is the fourth instalment of Shredder MTB Zine, taking a look at some of the most creative, humble and downright talented riders in our world of mountain biking.
Like Pulling Teeth - An illustration by Mike hughes.
I Have No Fuckin' Idea Where I'm Going - An interview and photofolio with Boris 'Maddog' Beyer.
Risky Business - The financial risks of trying to make a living from riding bikes.
Leader Of The Pack - An interview with the Loam Wolf creator/owner Drew Rohde.
Kill The Vlogger - Viewfinder ramblings with the MTB rebel/punk enthusiast, Tommy Caldwell.
Peace, Love And Bicycles - The Veronique Sandler interview.
The Saga Continues - An illustration by Will Weston.
Disposable Heroes IV - A lo-fi look at the Fort William World Cup with Zach Faulkner.
No Idea - Hashtag follow me?
Creativety Is The Key - The Monet-Rose Adams interview.
Often Imitated, Never Duplicated - Sprung issue 1 reviewed and reminisced.
Live For The Smiles - The Phil Atwill interview.
Artist Spotlight - Three pieces of work from Aaron Tolley of Trail Maps.
An Uninhibited Force - The Joe Connell interview.
Dumbing Down - The world is a better place when we ride our bikes.
Free stickers with every order (whilst stocks last).