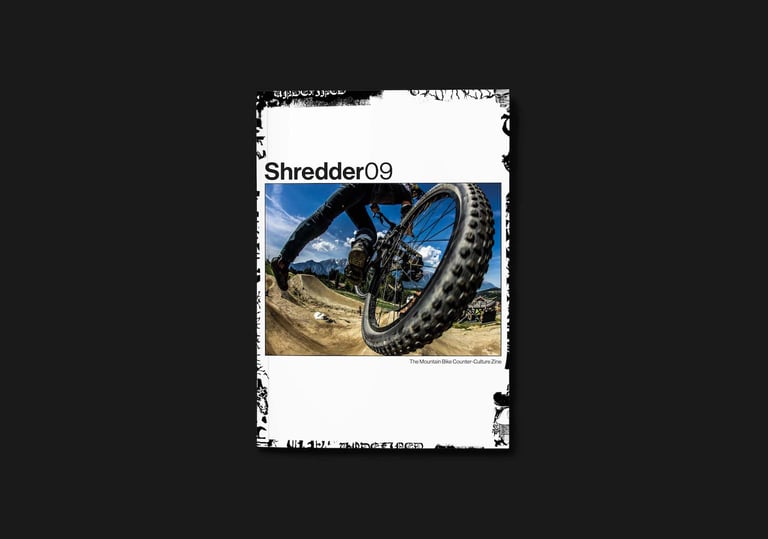 Shredder MTB Zine Issue Nine
Undefined: not clearly described, stated, or known. A lack of constrictions or boundaries. Mountain biking can be whatever you want it to be. A hobby, a lifestyle, an escape. Issue 09 of Shredder is all about being an individual, doing your own thing and doing what you want with your life.
Fishing: After a mellow solo blast around my local trails one evening, I sat down in front of my telly to watch the documentary that explores the life of three-time Formula One world champion, Ayrton Senna. As unusual as it may seem, a scene from the film made me realise that even the most laidback of mountain bikers have some competitiveness burning inside them.
Hone Your Craft: I delve into the mind of the MTB creative lifer, Jacob Gibbins in this 22 page interview/photofolio article.
In The Moment: Between the tape he's a force to be reckoned with, as a rider in general, to me his riding style is the pinnacle of perfection. I get to know more about the adventure seeking, humble bike devotee, Sam Dale.
Diggin' Shit: Trail builders rejoice, this one goes deep into the intricacies of tool materials, shovel geometry and trail building as a form of art as I quiz James Pettitt and Ollie Hindley about their beloved creation, the Trail Shark shovel.
Enter The Darkness: Sam Reynolds tells me all about the trials and tribulations of organising Darkfest 2021, with incredible accompanied snaps by Ryan Franklin.
Rise Of The Underdogs: I caught up with Joe Bowman of Steel City Media to find out some information about the challenges he faced when setting up a World Cup race team, how the guys have tackled their debut year as the UNION, and what the future holds for the crew of underdogs.
X Marks The Sport?: For X-Games to recognise mountain biking as worthy of having its own Real series is a huge deal, I asked Veronique Sandler about her experiences filming for the part, and what it means for mountain biking on a bigger scale to be involved with the extreme sports organistion.
Authentic: Why would you limit yourself to the confines of a label when you can live freely and do whatever you want? That's Billy Hoye's approach to riding, and I hope his message motivates you to challenge yourself, encourages more open-mindedness and most importantly, inspires you to go out there and be yourself.
Racers Ready?: A contributed photography piece from Jacob Gibbins showcasing the beautiful images he captured during the 2021 Trans Madeira event.
Positive Mental Attitude: Emil Johansson's precision, style and finesse are in a league of their own, and his back-to-back slopestyle victories last year are testament that his dedication and drive have established him as the current man to beat.
From Scratch: "It hit me when an old friend told me that someone bought a ski hill in Hunflen, a hill in the mid-west of Sweden where I used to ride a lot, that it's actually possible. I could potentially buy my own ski hill and turn it into a bike park. Now, that's crazy right?" Hanna Jonsson asks Oscar Härnström about how KISA MTB Park came to fruition.
Freeride Underground: One of the realest crews in mountain biking. Read their words, forget your worries, ride your bike and most importantly, be more like INTHEHILLSGANG!
Click X5: After enjoying the stories behind each of the snaps featured in issue 8's 'Click X5' photography article, I decided to give Sven Martin a shout again to carry out a repeat of the same process for this issue.
A Different Perspective: This one has been a long time coming. I ask Remy Morton everything from his beginnings in riding to how his opinions on being an individual within our worldwide mountain bike scene. Amazing photography from Scott Robb companies this 22 page article.
Mountain Biking Cannot Be Defined: Labels are everywhere and for some reason, we need them to define everyone. I conclude this issue of Shredder by questioning whether what we all do can be defined.
Free stickers with every order (whilst stocks last).